Liberty Industries LAMINAR FLOW WORKSTATIONS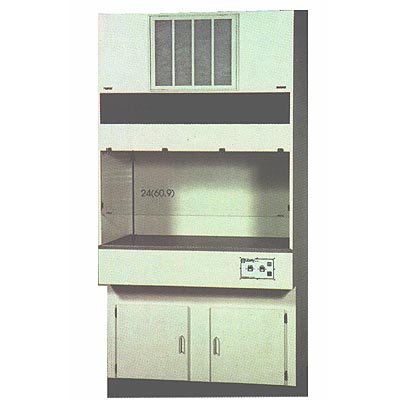 LFD's (laminar flow devices) have long been a staple of the professional, critical environment, as a laminar (unidirectional) air flow is key in moving particulate through and out of a confined, clean area, with the *HEPA- or ULPA-filtered air moving in a parallel, linear fashion with a constant speed.
Liberty designs and manufacturers a wide variety of both VERTICAL flow workstations and HORIZONTAL flow workstations, (sometimes called BENCHES) as shown both here and on their website.  There is a model for every application, and below are several leading versions.
I.  VERTICAL LAMINAR FLOW
#1)  Series 4070 Vertical Laminar Flow Fume Hood & Clean Bench (shown above)
This unit is typical of Liberty's focus on quality, perfect for contamination control in environments where it's critical to be free of dust.  Whether your application is in a lab or production, the 4070 surpasses the specs required in commercial, medical or military use.  Surrounding air travels through an air curtain keeping contamination from the work area.
The horizontal work surface is stainless steel that's perforated, and the others are made of white, 3/4 inch, high-pressure, plastic laminate.  Furthermore, the interior surfaces are sealed which prevents particulates from flaking.  The unit comes in 2 parts so that it can be easily assembled–the base unit and the fume hood, and the user can choose either the recirculating or exhaust modes.  (Note: if the exhaust mode is ordered the customer is responsible for exhausting the air from the unit beyond the exhaust duct collar.)   Options include a damper to change from mode to mode, a magnehelic gauge, and acrylic side panels…plus can be manufactured in stainless steel construction; 120V, single phase, 60 Hz.  The unit's size is 94 3/4″ high and 34″ deep, with the work surface area height being 24″.
Model #4-470-24-48 has 1 HEPA, 800 CFM, 1 40-watt light, 6.8 amp, 1 blower/prefilter; 99.5″W; approx. 975 lbs.
Model #4-570-24-60 has 1 HEPA, 1000 CFM, 1 40-watt light, 6.8 amp, 1 blower/prefilter; 74″ W; approx. 1200 lbs.
Model #4-670-24-72 has 1 HEPA, 1200 CFM, 1 60-watt light, 12.6 amp, 2 blowers/prefilters; 62″W; approx. 1420 lbs.
Model #4-870-24-96 has 2 HEPA's, 1600 CFM, 1 80-watt lights, 12.6 amp, 2 blowers/prefilters; 50″W; approx. 1750 lbs.
*HEPA filters are 99.99% efficient with regard to particles that are .3 micron or larger.  The Liberty Industries 1″ prefilter "Dust Guard" is 30% NBS, pre-tested, certified, and meets/exceeds all Federal Standards & ISO specs.  Designed for Class 100 (ISO 5) use.  The units have forward-curved, high-capacity blowers with a direct drive blower motor, plus are dynamically- and statically-balanced.  They are built to give a constant air flow without belt adjustment or speed control up to twice the clean filter resistance.  There is a separate on-off switch for the blower and the light, plus either a 6′ cord with 3-prong plug or junction box.  90 FPM +/- 20%; 125 foot-candles at the work surface depending on the color/material.  Fluorescent.   The noise level conforms with the noise standard from OSHA.
Note: a table-top unit is available, the model 4070-T.
II.  HORIZONTAL LAMINAR FLOW
 Series #4003 Horizontal Laminar Flow Table Top Hood/Clean Bench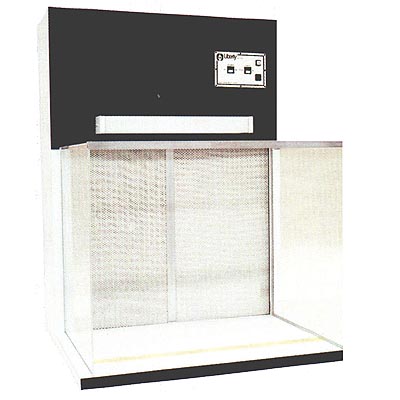 This table-top unit is both economical and efficient as either a stand-alone, single unit or placed next to another unit.  Just like the model #4070, the model #4003 is made with 3/4 inch novaply, and, on exposed surfaces, it's sealed with a white, high-pressure plastic laminate which keeps particles from shedding, plus maximizes contamination adherence.  Stainless steel construction is available.  Note that Liberty's design is unique in the industry with work zone definition.
There are over a DOZEN versions of the #4003, so see www.Liberty-Ind.com and then give Midstates Marketing a call for an official quotation–the List Price as well as your DISCOUNT percentage!